Notorious Minds?  A rogue secret agent stealing a weapon to kill thousands of innocent victims? Has to be fiction—a heart-stopping thrill ride in a hellish Hollywood, battered by Devil Winds, fiery-hot Santa Ana's that spark an inferno in the lush hills hiding the garish mansions of the rich and famous. Devil Wind, by Deborah Shlian and Linda Reid, is one of TWENTY exciting thrillers and mysteries included in the Notorious Minds Boxset, transporting your imagination to worlds beyond your door.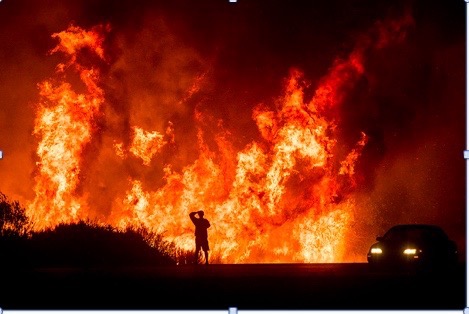 Venturing into a world of danger is best left to the imagination in today's pandemic era.  The COVID-19 virus has devastated our world, locking us into silos of isolation and loneliness, even as it claims the lives of family, friends, and neighbors as its victims.  As physicians as well as authors, Dr. Shlian and I had hoped that the antibiotic and anti-viral era would prevent a feared pandemic such as the one that decimated WWI survivors in 1918.  Yet, even with 21stcentury medical knowledge and expertise, we have met a viral enemy that we are struggling to conquer.  Many of us are seeking answers as to how we can remain healthy and safe, and others are searching for reasons to explain why this virus took hold—transferring from the realm of fiction to a dangerous reality.
Theories abound, and it may take us years to understand the complete story.  Meanwhile, everyone hopes and wishes that the damage and death from COVID-19 can be limited, and that we can soon return to our lives, work, and personal social connections.  Reading and writing can be solace for many whose path to recovery, whether from the virus, or its social and economic damage are difficult to surmount.  Devil Wind's protagonists, investigative reporter and talk-radio host Sammy Greene and her grizzled friend Gus Pappajohn pair up for a journey that begins from despair, and aims for the light of new hope, in a gritty Los Angeles universe familiar to fans of Michael Connelly and Lee Child.
The promise of hope, of a brighter future, inspires many writers to pen novels to delight readers; however, many other authors turn to imagining dystopias that serve as a warning for our societies about where we are headed and "what not to do". Faced with choices in an unknown scenario, we may revisit the projections and ideas of renowned futurists, such as Orwell and Huxley, and even Michael Crichton, for answers and fears about "what's next". Truth be told, though elements of authors' works may resonate with today's crises, we have tools at our disposal that we can use to opt for better outcomes than they predicted, such as scientific research, critical and strategic thinking, innovation, and free will. Let us hope and pray that our future guides us toward progress and not purgatory.
And let us enjoy adventures that exist in our imaginations, and from the imaginative fiction writers who are included in the Notorious Mind boxset, now available for pre-order from Amazon:
Be healthy and well, and enjoy our books!
Linda Reid
Co-author of the award-winning Sammy Greene Thriller series, Dead Air, Devil Wind, and Deep Waters
www.akesopress.com
Author (as Y S Pascal) of the award-winning Zygan Emprise Trilogy
www.amphitritepublishing.com