Sammy Greene, investigative reporter and radio host visits Thessaloniki, Greece in Deep Waters.  Thessaloniki was the home of thousands of Sephardic Jews who left Spain in the 15thcentury.  They were the majority in the city until World War II, and their social and cultural influence was captured in the city's nickname, "la madre de Israel", mother of Israel.
Tragically, after the Nazis invaded and occupied Greece in 1941, they rounded up 54,000 Jews and sent them north to concentration and labor camps, from which only ~5000 survived. A few escaped by hiding among the Gentile community, and some were protected by Greek Orthodox clergy. Two survivors of the Nazi genocide, Mois and Sara Bourla in Northern Greece became the parents of Albert Bourla, the CEO of Pfizer, oin 1961. Known as "Akis", Bourla shared his family's story with Sephardic Heritage International on the occasion of International Holocaust Remembrance Day:
"Remembrance. It's this word, perhaps more than any other, that inspired me to share my parents' story. That's because I recognize how fortunate I am that my parents shared their stories with me and the rest of our family.
Many Holocaust survivors never spoke to their children of the horrors they endured because it was too painful. But we talked about it a great deal in my family. Growing up in Thessaloniki, Greece, we would get together with our cousins on the weekends, and my parents, aunts and uncles would often share their stories.
They did this because they wanted us to remember. To remember all the lives that were lost. To remember what can happen when the virus of evil is allowed to spread unchecked. But, most important, to remember the value of a human life."
The story of Bourla's harrowing tales of his family's tragedy and survival are quoted in Kathimerini, Greece's premier newspaper: 
Bourla and his sister grew up in Thessaloniki. An animal lover, the bright young man entered the Aristotle University of Thessaloniki and graduated with a PhD in veterinary medicine. After working as a veterinarian, Bourla joined Pfizer, the mega-pharmaceutical company, in 1993, serving as a doctor of veterinary medicine and then as technical director for the company's animal health division in Greece. Bourla went on to embrace many roles at Pfizer, including serving as Group President of Pfizer's Global Vaccines, Oncology, and Consumer Healthcare business, helping to launch the anticoagulant Eliquis, and the breast cancer treatment drug Ibrance.
In 2020, Bourla pushed Pfizer employees for the fast development of a safe and effective COVID-19 vaccine in collaboration with BioNTech of Germany. He was quoted that "financial returns should not drive any decisions" with regards to the vaccine. To have vaccine ready for shipping immediately, he launched production of the Pfizer–BioNTech COVID-19 vaccine before the Emergency Use Authorization was approved by the FDA.
Today, Bourla and his family share homes in New York and Northern Greece. In April of 2019, Bourla was honored as the "Preeminent Greek Leader" of the global pharmaceutical industry by United States Ambassador to Greece Geoffrey R. Pyatt, at the Prix Galien Greece Awards ceremony.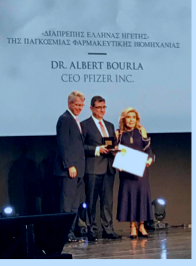 In 2020, Institutional Investor ranked Bourla as America's top CEO in the pharmaceutical industry. His company's Pfizer vaccine is one of the three vaccines available in the US and is helping millions stay safe and healthy around the world during this horrible pandemic.
Efharisto, Dr. Bourla!  And, if you're interested, you can read more about Greek Jewry and Thessaloniki as you follow Sammy Greene into Deep Waters!
–by Linda Reid