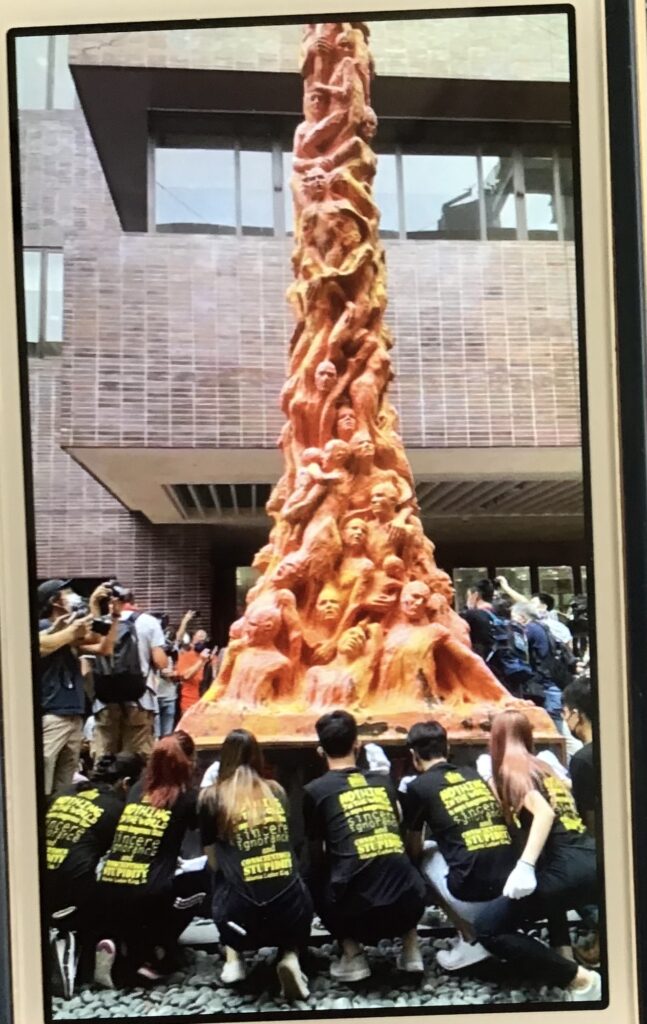 Last week in the middle of the night, that famous Pillar of Shame statue at the University of Hong Kong marking the Tiananmen Square massacre was removed while guards patrolled. 
No surprise given the fact that Beijing has increasingly been cracking down on political dissent in Hong Kong. 



The 8-meter (26-foot) tall statue which depicted 50 torn and twisted bodies piled on top of each other was created by Danish sculptor Jens Galschiøt to symbolize those students killed during the bloody military crackdown on pro-democracy protesters in Beijing's Tiananmen Square on June 4, 1989. 



For years Hong Kong has been one of few places in China that allowed public commemoration of the Tiananmen Square protests - a highly sensitive topic in the country. In fact no one born on the Mainland after 1989 has been taught about what the government calls"the June 4th incident".



The dismantling of the sculpture came days after pro-Beijing candidates scored a landslide victory in the Hong Kong legislative elections, after amendments in election laws allowed the vetting of all candidates to ensure that they are "patriots" loyal to Beijing.
 The removal also occurred during the same week that Hong Kong leader Carrie Lam traveled to Beijing to report on developments in the semi-autonomous Chinese city, where authorities have silenced dissent following the implementation of a sweeping national security law that appeared to target much of the pro-democracy movement following mass protests in 2019.

Since Beijing implemented that law in Hong Kong, over 100 pro-democracy activists have been arrested. It outlaws secession, subversion, terrorism and foreign collusion to intervene in the city's affairs. Critics claim it rolled back freedoms promised to Hong Kong when it was handed over to China by Britain in 1997.

The Pillar of Shame monument was erected over two decades ago. At first it was placed at Hong Kong's Victoria Park, but was eventually moved to the University of Hong Kong on a long-term basis.
Each year on June 4, members of the now-defunct student union would wash the statue to commemorate the Tiananmen massacre. Hong Kong and Macao, were previously the only places on Chinese soil where commemoration of the Tiananmen crackdown was allowed.